The sons and the bicycles
In the 1880's Carl went to England to see how they produced bicycles and almost at the same time Boyd Dunlop invented the bicycle tire witch created a cooperation with Michelin, whom Adam Opel became a reseller for.

Opel made a big success with the bike production with had two volume models that where solid and durable – with gave them large market shares.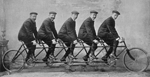 The five brothers became known for their great interest for the bicycle sport and their
– five person cycle – the Quintuplet. The 8 of September of 1895 Adam Opel died, but the Opel bike adventure continued for almost 3 years on, but the bicycle market was overwhelmed because of their success.